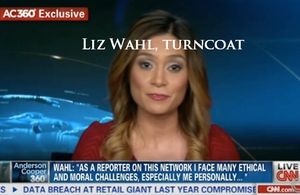 Today RT America anchor Liz Wahl resigned on air, claiming she disagrees with the channel's editorial stance. And here's what I have to say about it.
These days it takes a lot of courage to work for RT. Never before have I seen RT and its journalists bullied like this. See for yourselves what they did to poor Abby. First, she openly voiced disagreement with Russia's stance on air - and was virtually made an American hero. But then Abby reminded everyone how much she disagrees with America's stance as well, adding she takes pride in working at RT, where she is free to express her views. Less than an hour passed before Abby had her name dragged through something I have difficulty finding a decent name for this late at night. The US mainstream media even went as far as claiming we had orchestrated the whole thing as a publicity move. They labeled Abby a conspiracy theorist, bringing to light her past as an activist. In less than 24 hours, they first sang her praises and then excoriated her. All of this in front of her colleagues, including Liz Wahl. How do you think they felt watching that?
Yesterday I spent quite some time explaining to a
New York Times
correspondent why I consider Russia's position to be right. I'm Russian. I support my country and I will fight for the truth for as long as it takes. Neither Abby, nor Liz, nor many other employees are Russian nationals, but foreign. And now their country is likening my country to Nazi Germany. For many years they have worked for RT in good faith, proving every day that a voice that stands out from the mainstream media can be beautiful and strong, attract an audience that grows daily.
These are the people who were the first to tell their country about the Occupy movement, who were detained at protest rallies, handcuffed for hours and then tried in court for doing their job.
These are the people who were outraged by US hypocrisy in Syria, Libya - you can finish the list yourself - and reminded the world who used chemical weapons most often, even resorting to nuclear bombs. These are the people who did things the Western mainstream media would have never done. But those were peaceful times. And now we've got a genuine war going on - no, thank God, it's not in Crimea.
It's a media war.
Every single day, every single hour the guys who work for us are told, "You are liars, you are no journalists, you are the Kremlin propaganda mouthpiece, you've sold yourselves to the Russians, it's time you quit your job, and everybody is laughing at you, so change your mind before it's too late."