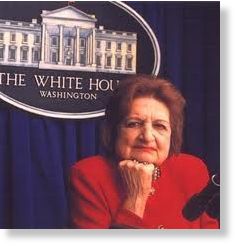 Veteran Washington insider and reporter 91-year-old Helen Thomas created shockwaves a year ago when she declared Israel should "get the hell out of Palestine." A disapproving statement came from President Obama and Thomas suddenly faced a vendetta from Jewish attack groups such as the Anti-Defamation League. They persuaded her alma mater, Wayne State University, to rescind her Lifetime Achievement Award.
"They took away basically my lifetime achievement award and they wanted to take away the worst of all - the first amendment right to speak freely - to speak and to write," she said on Republic Radio in August.
Polls show Thomas is admired by most Americans, many of whom share her conviction that America has no business supporting the strife-engendering Jewish state. In an August 5 interview with Deanna Spingola on the
Republic Broadcasting Network
, Thomas spoke out again. Here are her remarks, arranged according to topic. To listen to the complete two-hour broadcast commercial-free,
go here at truthtellers.org
.