Society's Child
Clayton Matherne, a clean up worker on the Gulf Coast, shares his pain, illness and personal loss with the world.


---
Jim Forbes
WTRF
Fri, 01 Apr 2011 04:06 UTC
A bit of a detour Friday for passengers leaving Washington, D.C. On their way to Chicago on board one American Airlines flight. That's because there was an unknown illness on that flight.

An American Airlines jet had to make an emergency landing in Dayton, this morning, when something went wrong on board.

It turns out two flight attendants were complaining of dizziness and four passengers later fainted. But when the captain learned of the illnesses, he decided to divert the plane to Dayton for an emergency landing.


Comment:
Read
the following
article to learn more about Aerotoxic Syndrome.
---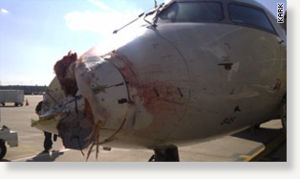 A commuter plane was left with significant damage to its nose after it struck a flock of birds, forcing it to make an emergency landing Friday at Little Rock National Airport in Arkansas.
The Delta Air Lines jet, with 49 passengers and crew on board, landed about 4:30pm local time, 4029tv.com reported.
Pictures of the plane show its nose cone smashed in and a hole in the fuselage.
---
Workers warned they're facing a 100-year battle to make fuel rods safe
Those battling to stop nuclear meltdown are expected to die in weeks
American recruiter asked to hire technicians to help
World's largest concrete pump is being flown from U.S. to assist
Evacuation zone refugees won't be able to go home for months, admits Japanese minister
Joint Japanese-U.S. mission recovers bodies from sea
Man arrested after crashing car through gate of stricken N-plant
TEPCO releases video showing damage inside Fukushima's Unit 4
A nuclear expert has warned it could be a 100 years before fuel rods at Japan's stricken Fukushima nuclear plant are safe.
Dr John Price, a former member of the Safety Policy Unit at the UK's National Nuclear Corporation, said radiation leaks will continue and it could take 50 to 100 years before the nuclear fuel rods have cooled enough to be removed.
The warning comes as the mother of one of the workers who are battling to stop a meltdown at the Fukushima nuclear plant said today that they all expect to die from radiation sickness 'within weeks'.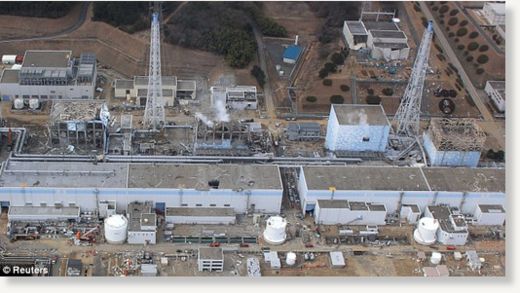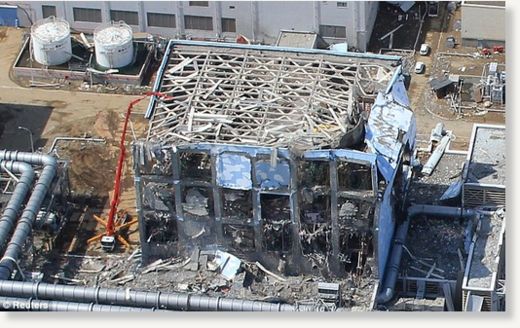 ---
A major police investigation has been launched after the discovery of a man's severed arm in a lake.
Detectives were called to the site in Buckhurst Hill, Essex by a member of the public.
Officers have confirmed that the incident is being treated as suspicious and the lake has been taped off.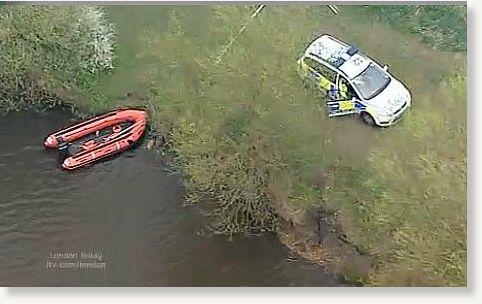 Police have been carrying out detailed searches of the area around the lake while specialist marine divers have been scouring the lakebed for the remainder of the body.
The grisly find was made at 2.50pm yesterday afternoon and the Kent and Essex Serious Crime Directorate are investigating.
---


Teachers, pupils and parents sat on the attacker until police arrived
Assailant 'did not attend school' where attack occurred
Victim's injures are 'serious' but she is stable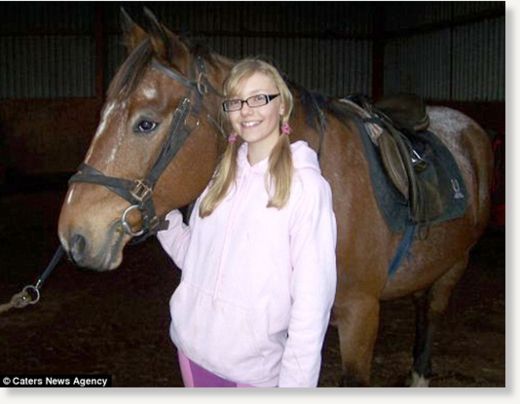 A girl of 14 was stabbed nine times in the neck yesterday as she was about to walk through her school gates.
Chloe West was attacked from behind by an 18-year-old man - said to be a former boyfriend - who had driven up a quiet tree-lined street at 60mph to confront her.
A 16-year-old pupil 'rugby tackled' the man to the ground and a teacher and a parent subdued him until police arrived at Ridgewood High School in Stourbridge, West Midlands.
---
The family of Crossbow Cannibal Stephen Griffiths' first victim will never have closure after hearing her body is lost forever.
Prostitute Susan Rushworth, 43, was beaten to death with a hammer in Griffiths' flat before he butchered her body, ate her flesh, and dumped the remains in the River Aire, an inquest heard.
Her tearful family said they will never be at peace because Susans remains cannot be found.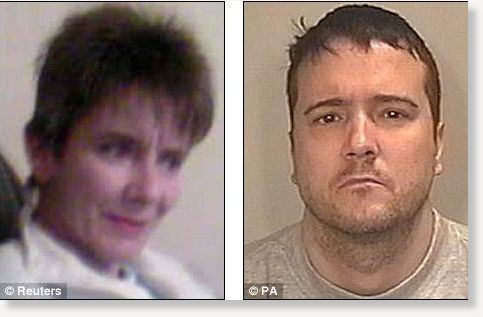 ---
A dog believed to have survived the tsunami and then three weeks at sea was rescued by the Japanese Coast Guard in northern Japan.

Coastguards spotted the dog on the floating roof of a house that had been washed out to sea, about 1.8 kilometers (1.1 miles) from the coast of Kesennuma in northern Japan.

The dog had evaded capture for several hours as it scrambled over the large tract of floating rubble.
---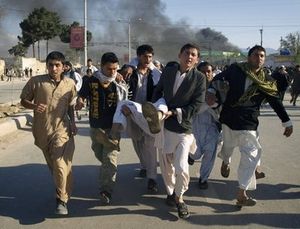 Kabul, Afghanistan - Three insurgents attacked a NATO base on the outskirts of Afghanistan's capital Saturday but were killed by coalition forces before they could enter the compound, NATO and Afghan police said.
The attack came just hours after Afghans angry over the burning of a Quran at a U.S. church stormed a U.N. compound in northern Afghanistan, killing seven foreigners.
NATO told The Associated Press in an email that three of its soldiers were wounded in Saturday's attack against Camp Phoenix, but that their injuries were not serious. The coalition said at least one attacker was possibly wearing a suicide vest. It added that the attack had ended.
Kabul provincial Police chief Gen. Mohammad Ayub Salangi said there were reports of three attackers involved and that two of them died when their vests detonated. He said a third was shot.
The base's gate had scorch marks on it, and an AP reporter at the scene saw some of the remains of at least one body belonging to a man who had blown himself up dangling from the gate.
Police officer Mohammad Shakir told the AP outside the base that two suicide bombers were involved in the attack and were apparently wearing burqas, the all-encompassing turquoise-colored coverings worn by many women in Afghanistan. The body of a third insurgent was just inside the gate, he said. He was shot and killed, Shakir said.
---
Kevin Gray
Reuters
Fri, 01 Apr 2011 21:58 UTC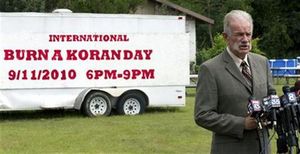 Miami - An American Christian preacher who caused an international uproar last year by threatening to burn the Koran has put himself back in the spotlight after incinerating Islam's holy book -- again with deadly consequences.
Thousands of protesters in northern Afghanistan, enraged over news that the Florida pastor Terry Jones had overseen a torching of the Koran, stormed a United Nations compound on Friday, killing at least seven U.N. staff.
---