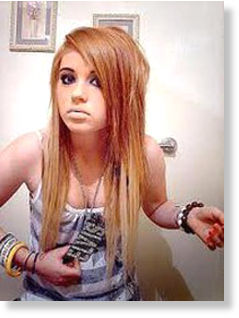 Former wife posed as 17-year-old in online scheme
Embroiled in a contentious child custody fight, an Indiana woman decided last month to pose on Facebook as a comely teenage girl in a bid to surreptitiously extract damaging information from her ex-husband.
The scheme proved so successful, in fact, that FBI agents last Friday arrested Angela Voelkert's former spouse on a felony charge for allegedly installing a listening device in her vehicle,
according to court records
.
Voelkert's Facebook plot--detailed by FBI Agent Robert Dane in a
sworn affidavit
filed in U.S. District Court in South Bend--began in late-May when she opened a Facebook account in the name of "Jessica Studebaker."
The purported 17-year-old's
profile
--which remains online, but locked--includes the photo of "Studebaker" seen at right. The true identity of the girl seen in the photo is unknown, nor is it clear where Voelkert got the image.
Voelkert, 29, used the bogus Facebook profile to "friend" her former husband David, 38. Angela Voelkert then asked a pal to e-mail her former spouse through the Facebook account since she was concerned that he might recognize her "style of writing." Voelkert though, Dane noted, "monitored the emails on 'Jessica Studebaker's' Facebook account."