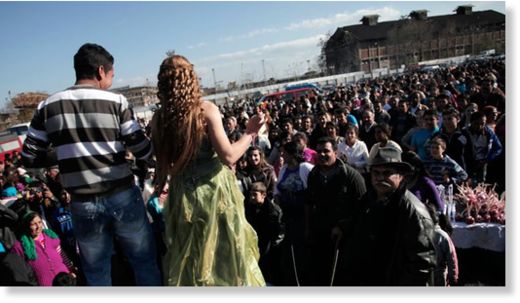 Donka Hristova lets her mother pull her skintight mini-dress a half-inch down her leg. Checking her makeup one last time, she joins her two younger sisters in a provocative dance.
The Gypsy girl knows she has to look her best. She is, after all, on an important life mission: catching the eye of one of the hundreds of young Gypsy guys prowling around what locals have dubbed the "bridal market" to initiate a complex ritual of haggling that could lead to marriage.
Love's not exactly for sale here. But in the litter-strewn parking lot that hosts the fair, amid blaring Gypsy pop and saucy flirtation, negotiations are churning quietly behind the scenes as families weigh their financial compatibility along with the merits of the prospective bride.
Often, the future of entire families is in the balance as these Roma, among the most poverty-stricken people in a deeply impoverished region, seek to forge mutually beneficial unions that will help them weather Bulgaria's brutal economic downturn.
Globalization adds to the economic pressures. The families gathered here are part of a community of about 18,000 Roma known as Kalaidzhi, who traditionally make a living as coppersmiths. That trade is dying out, in part because traditional copper pots and pans are being replaced by less expensive goods from China.