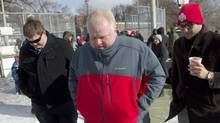 Long-simmering tension between Toronto Mayor Rob Ford and the city's police chief reached a new level of animosity with the mayor daring Chief Bill Blair on Thursday to "arrest me."
The mayor's comments - including a demand for the chief to apologize "to the taxpayers" - are the latest salvo after months of friction between Chief Blair and Mr. Ford and his brother, Councillor Doug Ford.
"I want to see how much money he spent on following me around," Mr. Ford said Thursday, when asked by reporters about remarks made by Chief Blair about a police investigation targeting the mayor. "If he's going to arrest me, arrest me. I have done nothing wrong and he's wasted millions of dollars."
On Thursday, Councillor Ford submitted a formal complaint against the police chief to a provincial watchdog, contending Chief Blair had mischaracterized an earlier complaint the councillor had submitted.
The Fords and Chief Blair have been publicly at odds since October, when the chief revealed police have a copy of a video that appears to show the mayor smoking crack cocaine. Chief Blair told reporters he was "disappointed" and police were investigating Mr. Ford. That investigation, called Project Brazen 2, resulted in the arrest of Mr. Ford's friend Alessandro Lisi for drug trafficking and extortion related to the crack video. In November, Mayor Ford admitted to smoking crack cocaine.