'We are victorious,' demonstrators say as they pour back to Pearl Square, setting up camp for extended stay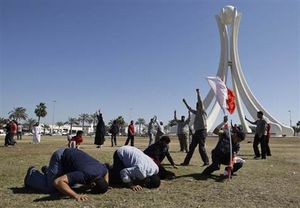 Manama, Bahrain - Anti-government protesters in Bahrain swarmed back into a symbolic square on Saturday, putting riot police to flight in a striking victory for their cause and confidently setting up camp for a protracted stay.
Crowds had approached Pearl Square in Manama from different directions, creating a standoff with riot police who had moved in earlier to replace troops withdrawn on royal orders.
Suddenly police raced to their buses, which drove away mounting kerbs in their haste to escape.
Emboldened protesters, cheering and waving national flags, ran to the center of the traffic circle, retaking it even before all police had left.
"We are victorious!" they chanted as they marched back into the square.
The crowd waved fleeing policemen through.
"We don't fear death anymore, let the army come and kill us to show the world what kind of savages they are," said Umm Mohammed, a teacher wearing a black abaya cloak.
On orders from the crown prince, troops and armored vehicles earlier withdrew from the square, which they had taken over on Thursday after riot police staged a night-time attack on a sit-in by protesters, killing four people and wounding 231.