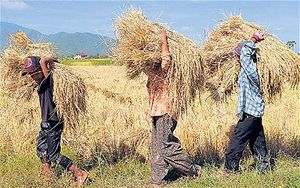 Millions of the world's poorest people and the state of the global economy are threatened by the food price rises, writes Geoffrey Lean.
'Within a decade," promised the top representative of the world's mightiest country, "no man, woman or child will go to bed hungry."
Dr Henry Kissinger, at the height of his powers as US Secretary of State, was speaking to the landmark 1974 World Food Conference. Since then, the number of hungry people worldwide has almost exactly doubled: from 460 million to 925 million.
And this week the airwaves have been full of warnings that the formidable figure could be about to increase further, as a new food crisis takes hold. Some experts warned that the world could be on the verge of a "nightmare scenario" of cut‑throat competition for the control of shrinking supplies.