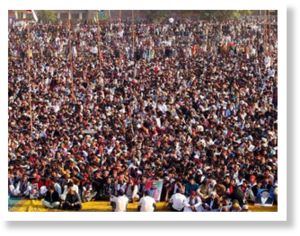 There may be plumes of acrid smoke rising from burning tyres in cities across the Middle East, but there is the discernible whiff of something else - fear. And it is not so much fear among the tens of thousands of people who are taking to the streets facing down paramilitary police forces in Tunisia, Algeria, Jordan, Egypt and elsewhere to protest against their governments. It is rather more the fear among the rulers of these unwieldy regimes - a fear, or at least grave concern, that must also be seeping into the corridors of power in Washington and other Western capitals.
Dozens of protesters have been killed or injured by police firing on civilians inspired by the popular uprising in Tunisia, which has seen the president of that country fleeing to neigbouring Saudi Arabia. Egypt - the most populous of the 22 League of Arab countries and a crucial pillar of US foreign policy architecture in the Middle East - is now the focal point for the wave of street demonstrations sweeping the region. At least four people have been killed in that country and over 700 arrested in the past few days as thousands of citizens pour on to the streets of Cairo, Alexandria, Suez and other major Egyptian cities in defiance of a government ban on such demonstrations. Like their counterparts in Tunisia and other Arab countries, the protesters in Egypt are demanding the overthrow of the government - and not just the figureheads like Ben Ali of Tunisia and Hosni Mubarak of Egypt, but the entire ruling elite.
Despite the vicious repression of these regimes and the evident ease of deploying lethal force,
the people are refusing to be intimidated off the streets.
There is a palpable sense of momentum for long-overdue radical change in the region ­ - driven by decades of frustration and anger with the rulers of these countries over a raft of social and political issues. There could hardly be a more comprehensive checklist of causes for revolutionary upheaval: massive poverty, unemployment and lack of housing, education, health, free speech, labour rights, voting rights - a veritable tinderbox of grievances all compressed beneath an egregiously wealthy elite who continue to sit on this incendiary mass only by the use of brutal state security apparatus. Notably, most informed sources agree that it is not Islamic fundamentalism fuelling the widespread popular unrest, but rather it is simple economic and social injustice and desire for basic democratic rights.