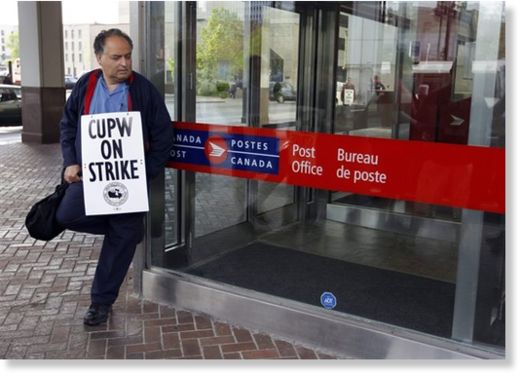 Canada Post's lockout of 48,000 unionized workers on Wednesday has prompted Labour Minister Lisa Raitt and her officials to reconsider whether to order an end to service disruptions that began nearly two weeks ago.
With Canada Post deciding Tuesday night to lock-out the workers and suspend all mail service in urban centres, Raitt said the situation has fundamentally changed - although she wouldn't say back-to-work legislation was certain.
Raitt has previously called for the two sides to negotiate a settlement, with the help of a federal mediator, but several major issues remain unresolved after months of bargaining.
"Today we now have a lockout so there's a cessation of mail delivery, that's different than rolling strikes, that's different than cutting back on the mail service," she told reporters Wednesday morning.
"It's time to go back and take a look at the effect on the Canadian public, Canadian businesses and indeed on the national economy."
On Tuesday, Raitt tabled intent to order about 3,800 striking workers at Air Canada (TSX:AC.B) back on the job, citing the impact on a fragile economy.
Canada Post's decision to lock out members of the Canadian Union of Postal Workers may leave lasting scars.