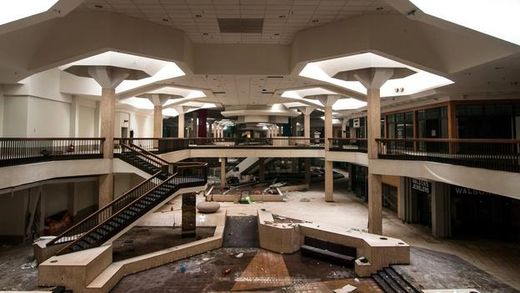 Shopping malls are not meant to be sinister. And, yet, in 1977, George A Romero chose to film sequences of
Dawn of the Dead
, his cult horror zombie movie, in a deserted mall. Shorn of life and light, the great echoing chambers of the enclosed shopping centre took on a very eerie tone indeed. Curiously, Romero's set design has much in common with photographs of the ever-increasing number of abandoned malls strewn across the United States from California to New England. There are well over a hundred of these lifeless concrete and steel behemoths sprawled beside freeways on the fringes of far-flung American suburbs.
Economic decline in certain areas − notably the mid-West − combined with an accelerating trend towards online shopping and new forms of urban shopping centres have pushed the once seemingly invincible and all-American shopping mall into decline. Many are thriving, and being renovated and extended, yet 'ghost malls' are fast becoming the 'ghost towns' of the early 21st Century, and photographers have begun to see them as fascinating, if decidedly disturbing ruins.
Inside, their acres of kitsch design seem even sorrier than a seaside funfair out-of-season. All that marble, those wall tiles, the broad, Hollywood-like stairs − leading nowhere today − and sorry details like a sign on a wall of the Crestwood Court mall, St Louis, reading "Rest Easy", is both a little trashy and rather poignant.