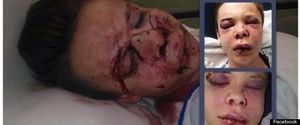 An Alabama woman is recovering after allegedly being attacked by her girlfriend's brother over Thanksgiving weekend.
Though details of the case are continuing to emerge,
NBC affiliate Local 15 reports
that 23-year-old Mallory Owens is being treated for injuries following a Nov. 22 assault by Travis Hawkins Jr. Owens, who was reportedly attending Thanksgiving dinner at the family home of girlfriend Ally Hawkins (Travis' sister) at the time of the attack, suffered multiple skull fractures and crushed bones, and had metal plates put under her eyes because of her injuries, according to reports.
Hawkins, Local 15's report notes, has been charged with second degree assault, though it remains unclear what may have prompted the attack.