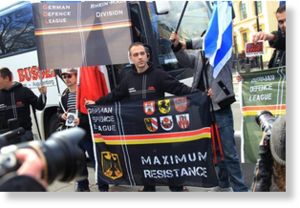 Aarhus, Denmark - More than 80 people were arrested Saturday as protesters hurling rocks and bottles tried to interrupt an anti-Islamic demonstration by far-right groups from across northern Europe, Danish police said.
There were numerous brief scuffles throughout the day as police tried to separate some 2,500 counter-demonstrators from a few hundred people attending the anti-Islamic rally in Aarhus, Denmark's second-largest city. One police officer received minor injuries after being hit by a bottle, police spokesman Georg Husted said.
Police said about 200 to 300 people from Denmark, Britain, Germany, Sweden and Poland took part in what was billed as a "European counter-jihad meeting" to protest what they called the Islamization of Europe. They were met by a 10-times larger counter-demonstration by left-wing groups under the banner "Aarhus for Diversity."
The anti-Islamic rally started with a moment of silence for the seven people killed by an al-Qaida-inspired gunman in France.
Among the speakers was Tommy Robinson, the head of the English Defence League, a far-right group that has staged rowdy protests in Britain, and has inspired smaller offshoots in a number of European countries.