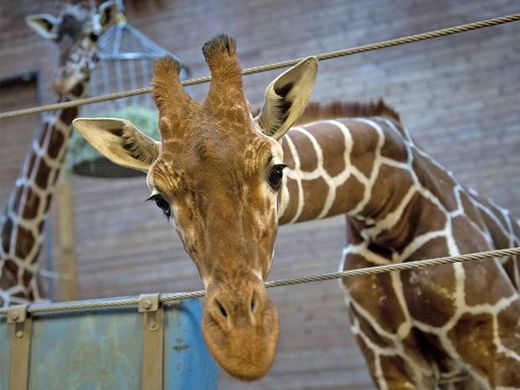 Revelation comes in wake of controversy over healthy giraffe put down in Copenhagen
Up to 5,000 healthy zoo animals - including hundreds of larger ones such as giraffes, lions and bears - are killed by zoos in Europe
every year,
it is claimed today.
The revelation comes in the wake of the international furore over the killing of Marius, a healthy 18-month-old giraffe, by Copenhagen Zoo. It has since been established that five of the animals have been put down by zoos in Denmark since 2012.
Across Europe, 22 healthy zebras, four hippos and two Arabian Oryx were also put down. The Oryx were killed at Edinburgh and London zoos in 2000 and 2001.
Several German zookeepers were prosecuted in 2010 for killing three tiger cubs at Magdeburg Zoo. However, some zoos, such as Twycross in Warwickshire, have a policy of not putting down healthy animals.
Dr Lesley Dickie, executive director of the European Association of Zoos and Aquaria (Eaza), told BBC Radio 4's The Report that between 3,000 and 5,000 healthy animals are put down every year across Europe. "That's our estimate for all animals management euthanised in the zoo, be it tadpoles up until a giraffe," she said.
She added that "less than a few hundred" larger animals such as giraffes, zebras, lions and bears were included in the total. She said the true number was not known as studbooks sometimes do not record why an animal is killed. Like Marius, some animals are put down as part of a breeding programme designed to encourage genetic diversity in the captive population.
Dr Dickie said if zoo populations became too inbred they would be "absolutely no use for any future reintroduction programme. There's lots of success stories. Tiger populations are now more stable in our zoos than they are in the wild," she said. "Things like golden lion tamarins, a small primate from South America - it only exists because of zoos. There are other animals in which the situation in the wild is very dire and thank goodness we have captive populations."
The
Eaza
yearbook for 2007-08, the latest available to the public, indicated that over-breeding was a problem for some species with surplus male monkeys, baboons and leopards. Simon Tonge, Eaza's chairman, admitted that the "numbers game can be made to sound awful", but insisted most of the public were on their side.
"There is 10, 15 per cent of the population who believe that the worst thing a human being can possibly do under any circumstances is to kill an animal," he said. "But for the majority of people, if it's necessary to euthanise an animal for human consumption or to regulate the populations, actually they are perfectly happy for that to happen."
But Libby Anderson, of animal welfare group OneKind, said the idea that killing zoo animals was part of a conservation effort was misguided. "These animals will never replenish the wild populations. If we want to conserve wild populations, we have to address the challenges that they face in their environment," she said.