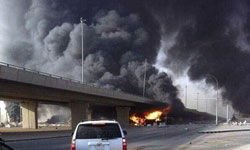 A gas tanker exploded on a main road in Riyadh, Saudi Arabia, on Thursday, killing at least 22 people and injuring over 100 others.
The lorry veered into a bridge pylon at a junction on Khurays Road in Riyadh at about 7:30 am, causing a gas leak that filled the area and then burst into flames, destroying nearby cars and a business.
Eyewitnesses reported widespread damage to the area, with dozens of cars mangled by the blast and burned out.
A bus that had been gutted by the fire stood idle on the flyover, with witnesses saying that the vehicle had been transporting workers whose fate remained unknown.
Another truck fell off the bridge due to the impact of the explosion, the witnesses said. Civil defense personnel carried two "completely charred" bodies from the site.