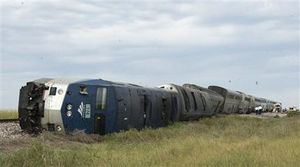 An Amtrak train headed from California to Chicago struck a demolition crane in southwest Nebraska on Friday, forcing two locomotives and three passenger cars off the rails but causing no major injuries, officials said.
The train, which was running on Amtrak's California Zephyr route from Emeryville, Calif., to Chicago, had 175 passengers and 17 crewmembers on board when it struck the crane at about 8 a.m. near Benkleman, which is near Nebraska's border with Kansas and Colorado.
The two locomotives that left the tracks tipped over, but the three derailed passenger cars did not, Amtrak spokesman Marc Magliari said. The seven other passenger cars remained on the track.
Twenty-two people were injured, twenty of them who were on the train, Dundy County emergency director Elaine Frasier said. She said she didn't know whether the other two people injured were on the crane or elsewhere nearby.