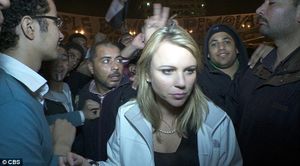 The White House today demanded that the Egyptian government round up and bring to justice the thugs who brutalized CBS foreign correspondent Lara Logan.
Senior members of the White House say they are expecting a full investigation into the prolonged beating and sexual assault of the reporter by the 200-strong mob last week in Cairo.
White House Press Secretary Jay Carney said: 'We believe that those responsible for these acts need to be held accountable,' while a State Department spokeswoman said the United States expects a 'full investigation and accountability for anyone involved in violence during the demonstrations.'
Yesterday a concerned President Obama phoned the 60 Minutes reporter to pass on his concerns.
A friend said Mr Obama asked the 39-year-old about her condition and expressed his concern over what she had to go through.
In New York, a spokeswoman for the Egyptian Mission decried the attack and said the turmoil-wrecked Arab state would investigate all attacks on journalists covering demonstrations before and after the fall of Hosni Mubarak last Friday, calling the attack on Miss Logan 'unacceptable and shameful'.