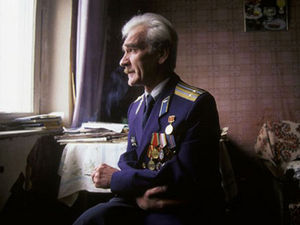 Most people become heroes for doing things. Stanislav Petrov became one through having the courage to do nothing - in the face of a potential nuclear threat.
­The retired Russian Lieutenant Colonel has picked up a major humanitarian accolade, the German Media Prize, for preventing possible catastrophic all-out conflict. The previous recipients of the award include Nelson Mandela, Kofi Annan, and the Dalai Lama.
­
Teetering on the brink
­On September 26, 1983, Stanislav Petrov was the duty officer at an early-warning anti-nuclear center just outside Moscow.
The clock had just struck midnight, when a piercing warning siren began to wail.
It was less than a month after the USSR had shot down a Korean passenger jet, and Cold War tensions were at their highest for years.
Petrov's computer showed that the United States had launched a ballistic missile towards the Soviet Union. In seconds, several more appeared.