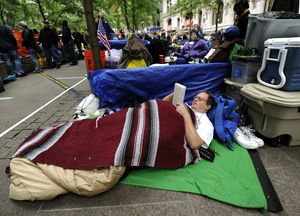 The Occupy Asheville movement may be faced with a new opponent that represents a different kind of 1 percent - homeless people.
On Friday, a homeless man threatened to fight members of Occupy Asheville, harassing women with inappropriate comments and also spraying a soda at protesters before being arrested. The
Asheville Citizen-Times
reports that the man was arrested for assault and making threats.
Asheville police responded to the scene around 5:30 a.m. Friday, arresting the homeless man for the alleged assault. Protesters accuse the homeless man of keeping Occupiers up for six straight hours when they were attempting to sleep, even bragging about a bike he allegedly stole from the camp. It does not appear the man was a part of the Occupy Asheville movement.
The incident came just days after Asheville leaders forced the Occupiers to move from their original protesting position, which led them to a spot in front of the Federal Building. Asheville Police Lt. Wallace Welch told CBS Charlotte that although he doesn't know if the arrest will be an isolated incident, the group's presence could determine if there will be future interactions.