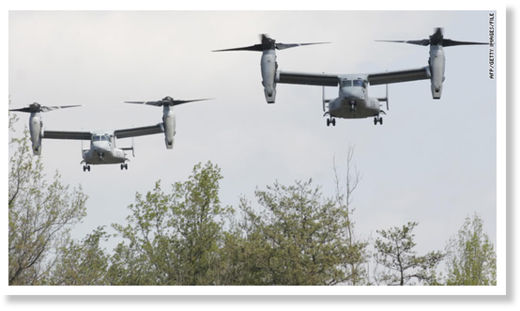 Washington -- It's mid-June, a perfect time to visit the beach to watch porpoises play in the surf or seagulls strut the sand -- or you could watch a formation of Marine Corps warplanes darting over the shore at hundreds of miles per hour.
But don't worry -- the United States hasn't declared war on your family's beach house. It's just part of a major Marine Corps exercise called Exercise Mailed Fist (translation: armored fist).
The exercise is designed to test the capability of every type of Marine Corps aircraft, including MV-22 Ospreys and F/A 18 Hornets, as well as some Navy ships and Air Force planes.
The drill will stretch from Quantico Marine Base in northern Virginia to the Navy's Pinecastle Bombing Range in Florida.
With thousands of Marines and other service members involved, it's the biggest such drill ever on the U.S. East Coast.