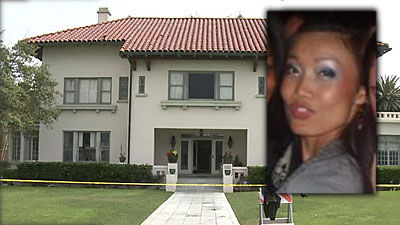 The girlfriend of a prominent pharmaceutical executive was found bound, nude and hanged from a balcony at his mansion near San Diego, and homicide detectives said on Thursday they have not ruled out suicide.
The body of Rebecca Nalepa, 32, was discovered on Wednesday morning at the seaside home of Medicis Pharmaceutical Corp founder and CEO Jonah Shacknai in Coronado, an upscale island beach resort connected to San Diego by a long bridge, authorities said.
The strange death came two days after Shacknai's 6-year-old son, Max, was critically injured and placed in a medically induced coma from what police said was reported as a fall from a staircase in the home, Coronado Police Chief Louis Scanlon said.
Land records show that Shacknai, 54, whose Scottsdale, Arizona-based company is maker of the acne treatment Solodyn and wrinkle-filler Restylane, purchased the 27-room landmark property known as the Spreckels Mansion in October 2010.
Shacknai was not present when authorities were called to his home on Monday morning, finding only the injured boy and his girlfriend at the residence.