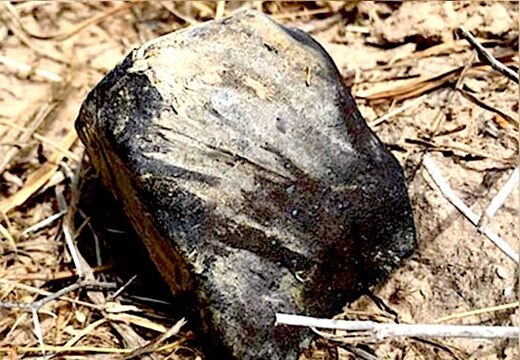 A chunk from the fireball meteor that exploded on Feb. 15 has been recovered. Other fragments of the hefty space rock were likely showered across the nearby area.
A hefty meteor weighing around the same as a grand piano recently exploded in the skies above Texas, potentially showering the surrounding area with smaller fragments.
One of these meteorite chunks has already been recovered and could help reveal more about our cosmic neighborhood, experts say.
The meteor, which was likely a small
asteroid
, entered Earth's atmosphere on Feb. 15 at around 5 p.m. CST and broke apart in a burst of flames
about 21 miles (33.8 kilometers) above the city of McAllen.
This type of space rock is known as a fireball meteor because of the bright flash given off as it breaks apart, due to friction between the fast-moving object and the air in the atmosphere.
"Based on analysis of preliminary information from several sources,
NASA experts believe the object was a meteoroid about two feet [0.6 meters] in diameter weighing about 1,000 pounds [454 kilograms],"
representatives from NASA's Meteor Watch wrote on
Facebook
. The meteor was traveling at around 27,000 mph (43,450 km/h) when it exploded and released the equivalent energy of around 8 tons (7.3 metric tons) of TNT, they added.
The meteor's size and speed suggested that fragments had likely reached the ground without burning up completely, NASA representatives wrote.