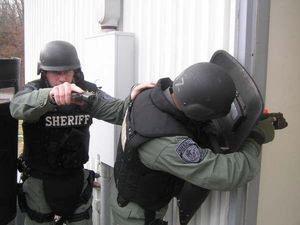 On June 17, 1971 President Richard Nixon declared the War On (Some) Drugs. Now, I've repeatedly pointed out some of the side effects -- the militarization of our police forces, the enrichment of drug gangs in other countries, the disenfranchisement of large swathes of minority America either through placing them in jail or through removing their right to vote after they get out of jail, and so forth. I've also pointed out that the War on (Some) Drugs has not ended drug abuse, indeed, there's as much drug abuse as ever. But let's get to the bottom line: Is the War on Drugs a success?
Now, you might wonder why I'm asking that question. Well, that's probably because you're one of the suckers who believes that the War on Drugs is -- or ever has been -- about drugs. But of course it
isn't
. It's
never
been about drugs. When Nixon declared the War on Drugs, he wasn't actually declaring war on drugs. He didn't give a s*** how much pot people smoked or how much acid they dropped.
He was a lizard person, remember. Lizard people don't view humans as people. They view humans as prey. Nixon could no more have cared about the horrors of drug abuse than a newt could care about the feelings of the fly he just snagged with his tongue and is in the process of eating. As a sociopath, he simply was biologically incapable of feeling anything for human beings.