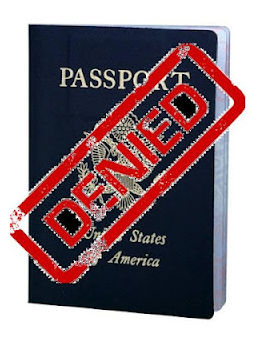 A bill that nobody is paying any attention to is sailing through Congress: Senate Bill 1813. It passed the Senate by 74 to 22, and is expected to sail through the House as well. It's an act "[t]o reauthorize Federal-aid highway and highway safety construction programs, and for other purposes."
It's the "
and for other purposes
" part of the title that has me worried - specifically Section 40304: "Revocation or denial of passport in case of certain unpaid taxes."
This section would give the IRS the power to keep a U.S. citizen from traveling -
- and it's another example of Executive Power run amok. It's another example of how the United States is turning into
a police-state
.
The right to travel freely is sacrosanct - it's not some privilege that the government bestows on us: It's one of our basic freedoms as citizens. In point of fact, the countries that have limited their citizens' ability to travel - the Soviet Union, the People's Republic of China, North Korea, Cuba - were all rightfully called "police-states": It's one of their defining characteristics - the fact that they were keeping their citizens hostage.
In the United States, there are several, clearly defined reasons why you would have your passport either denied or revoked - and all of them pass the smell test.
In the case of a passport being denied,
according to
the U.S. State Department, the reasons are:
"a federal warrant of arrest, a federal or state criminal court order, a condition of parole or probation forbidding departure from the United States (or the jurisdiction of the court), or a request for extradition [by a foreign country].
Additionally, failure to pay a court-ordered child-support in excess of $5,000 can also be grounds for the State Department to refuse to issue a passport to a U.S. citizen.