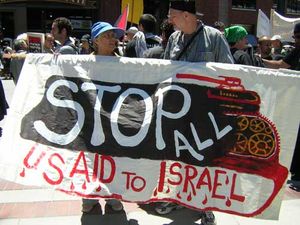 It's now well known that Israelis and pro-Israelis "fixed" the intelligence that induced the U.S. invasion of Iraq. What's not yet widely known is how. If peace-seeking nations hope never again to see deceit operate on such a scale, those deceived must learn this lesson before these same operatives induce a war with Iran.
To "wage war by way of deception" (the motto of the Israeli intelligence service) requires the capacity to operate in plain sight yet without detection. To detect this duplicity in real time requires a grasp of how Israeli strategists rely on three key categories of operatives: agents, assets and sayanim (Hebrew for helpers or volunteers).
Agents are fully conscious of the intended goal of an operation. Intent is what distinguishes premeditated murder from involuntary manslaughter. Culpability is gauged by the state of mind. Agents operate with what the law calls extreme malice and an "evil mind." Thus the severity of the sanctions for premeditated capital crimes.