Organisation of American States to hold meeting next week following Ecuador's decision to grant asylum to Assange
.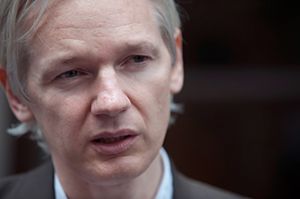 The diplomatic row between Britain and Ecuador over the WikiLeaks founder, Julian Assange, is to be discussed by foreign ministers from across the Americas next week.
The Organisation of American States (OAS) has voted to hold a meeting next Friday following Ecuador's decision to grant political asylum to Assange, who is currently taking refuge in the South American country's embassy in London.
Assange has described the move as a "historic victory" but the British foreign secretary, William Hague, made it clear that the Australian would not be allowed safe passage out of the country.
The permanent council of the OAS decided that a meeting would be held in Washington DC after members voted on the issue. The US, Canada and Trinidad and Tobago opposed the resolution, but 23 members voted in favour of the meeting. There were five abstentions and three members were absent.