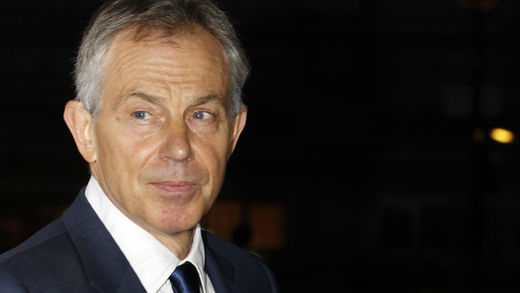 Britain's ex-prime minister Tony Blair returned to the country's inquiry into the Iraq war Friday, after witnesses raised doubts about sections of his testimony from a year ago when he made a defiant defence of the decision to topple Saddam Hussein.
Blair arrived several hours before he was due to give evidence to the five-member inquiry panel, as a group of about 100 anti-war demonstrators gathered outside London's Queen Elizabeth II conference centre to denounce the former leader's decision to join the 2003 U.S.-led invasion.
Protesters shouted "Tony Blair, terrorist," an echo of massive protests in London in the buildup to the conflict almost eight years ago.
Blair, wearing a dark blue suit and tie, flashed a wide smile at the panel as he began his testimony and confidently fielded questions.
Offering a familiar argument from his session a year ago, Blair said he believed there were two, competing world views in the aftermath of the Sept. 11, 2001, attacks on the United States. Some, including then-French President Jacques Chirac, believed the threat from terrorism could be managed without the need for major conflict, Blair said.