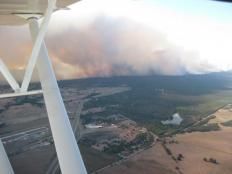 Bastrop, Texas: Firefighting-trained volunteers from around the state converged on Bastrop and Smithville Tuesday to lend a hand to the beleaguered local firefighters battling the Bastrop County Complex Fire - only to be sent away as federal officials arrived at the scene and took command, apparently because local officials never made a formal request for volunteers.
"We were at the station getting set up into strike teams, and this guy came up and said that the U.S. Forest Service had 'assumed control of the situation, and that 'If you don't have a vehicle that squirts water, go home,'" said Gordon Greer of Kirbyville, who drove all night Monday to arrive in the town beset by the worst wildfire in Texas history. "You've got guys who had driven all night long from Corpus Christi and Brownsville on their own dime, and they turned them away. He was really a (bleep) about it.
"There was a whole line of beige cars that came in this morning, tinted windows and such," Greer said.