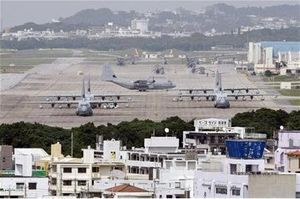 The United States and Japan announced on Thursday a revised agreement on streamlining the U.S. military presence on Okinawa that will shift 9,000 Marines from the southern Japanese island to Guam and other Asia-Pacific sites.
The new plan, unveiled days before Japanese Prime Minister Yoshihiko Noda meets President Barack Obama in Washington, helps the allies work around the central but still-unresolved dispute over moving the Futenma air base from a crowded part of Okinawa to a new site that has vexed relations for years.
"I am very pleased that, after many years, we have reached this important agreement and plan of action. I applaud the hard work and effort that went into crafting it," U.S. Defense Secretary Leon Panetta said in a statement.
"Japan is not just a close ally, but also a close friend."
Under the agreement, 9,000 U.S. Marines will be relocated. Five thousand will go to Guam and the rest to other sites such as Hawaii and Australia, a joint U.S.-Japanese statement said.
The updated version of a long-delayed 2006 plan was needed to achieve "a U.S. force posture in the Asia-Pacific region that is more geographically distributed, operationally resilient and politically sustainable," the statement said.