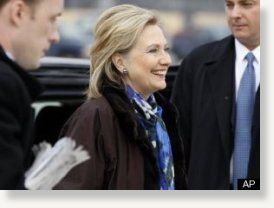 Secretary of State Hillary Rodham Clinton is convening an unprecedented mass meeting of U.S. ambassadors.
The top envoys from nearly all of America's 260 embassies, consulates and other posts in more than 180 countries will be gathering at the State Department beginning on Monday.
Officials say it's the first such global conference.
The gathering comes at a time of crisis in Egypt that could reshape dynamics in the Middle East, fallout from leaked diplomatic documents and congressional calls for sweeping cuts in foreign aid.