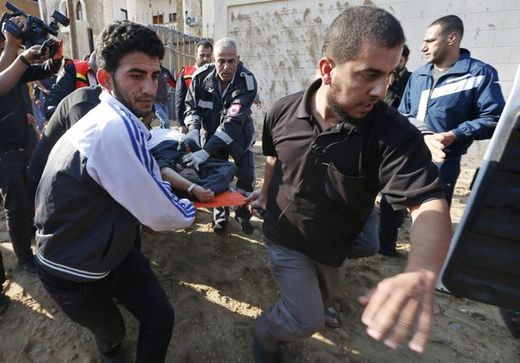 A Hamas rocket killed three Israelis north of the Gaza Strip on Thursday, drawing the first blood from Israel as the Palestinian death toll rose to 15 in a military showdown lurching closer to all-out war and an invasion of the enclave.
On the second day of an assault Israel said might last many days and culminate in a ground attack, its warplanes bombed targets in and around Gaza city, where tall buildings trembled.
Plumes of smoke and dust furled into a sky laced with the vapor trails of outgoing rockets.
The sudden conflict, launched by Israel
with the killing of Hamas's military chief, pours oil on the fire of a Middle East already ablaze with two years of revolution and an out-of-control civil war in Syria. Palestinian allies, led by Egyptian President Mohamed Mursi, denounced the Israeli offensive.
After watching powerlessly from the sidelines of the Arab Spring, Israel has been thrust to the centre of a volatile new world in which Islamist Hamas believes that Mursi and his newly dominant Muslim Brotherhood in Egypt will be its protectors.