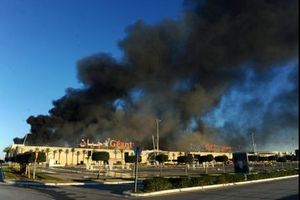 Reports say scores of inmates have been killed in an inferno at a jail in eastern Tunisia as violence continues in the North African country.
Medical sources say at least 50 prisoners have been killed in the fire at the prison in the resort town of Monastir, 160 kilometers south of the capital Tunis.
"The whole prison is on fire, the furniture, mattresses, everything," Reuters quoted one witness as saying.
In the wake of the unexpected ouster of former Tunisian President Zine El Abidin Ben Ali, a new wave of mayhem and disorder has swept across the capital Tunis.
The blaze started when an inmate set fire to a mattress in a dormitory in an attempt to escape.