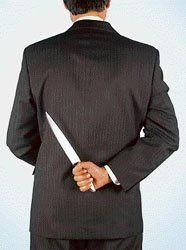 One of the key
traits
of psychopathic personality disorder is a near-total absence of empathy. To the psychopath, other people exist as mere objects, to be used and discarded at the psychopath's whim.
"I had to beat my mother with that baseball bat," claims the typical psychopath. "She wouldn't give me her pension check, and I needed it to buy more beer."
Such statements are made without irony or sarcasm, since the psychopath literally cannot imagine that other human beings might have needs distinct from his own.
While watching events unfold these past weeks in Egypt, it became apparent to me that the United States is suffering from a foreign policy malady frighteningly analogous to psychopathic personality disorder.
On one hand, the history of the Mubarak regime is
well-documented
. For decades, the Egyptian people have lived in grinding poverty - on less than $2 per day, by some estimates - while Mubarak and his family have amassed vast fortunes. The Egyptian government routinely uses torture against its political opponents and denies the people even basic freedoms. Election fraud, censorship, and police brutality are realities of everyday Egyptian life.
That the Egyptian people have rebelled against such a regime should come as no surprise. And one would expect that the American government - itself the creation of a revolution against an authoritarian monarchy - would support their cause, at least morally if not materially.