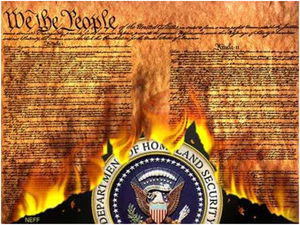 In August 2007, Congressman Peter DeFazio, a member of the House Homeland Security Committee, told the House that he and the rest of his Committee
had been barred from reviewing parts of National Security Presidential Directive 51, the White House supersecret plans to implement so-called "Continuity of Government" in the event of a mass terror attack or natural disaster.
(1)
Norm Ornstein, of the conservative American Enterprise Institute, commented, "I cannot think of one good reason" for denial. Ornstein added, "I find it inexplicable and probably reflective of the usual, knee-jerk overextension of executive power that we see from this White House." (2)
The story, ignored by the mainstream press, involved more than the usual tussle between the legislative and executive branches of the U.S. Government. What was at stake was a contest between Congress's constitutional powers of oversight, and a set of policy plans that could be used to suspend or modify the constitution.
There is nothing wrong with disaster planning per se. Like all governments, the U.S. government must develop plans for the worst contingencies. But Congress has a right to be concerned about Continuity of Government (COG) plans refined by Dick Cheney and Donald Rumsfeld over the past quarter century, which journalists have described as involving suspension of the constitution. (3)