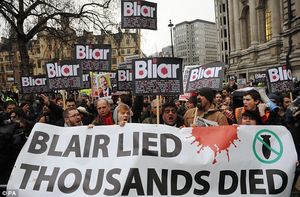 Either Anthony Blair and Alastair Campbell hounded the weapons inspector Dr David Kelly to suicide for his objections to their lies about Iraq's weapons of mass destruction or, alternatively, Dr Kelly was murdered by professional, government sponsored assassins from America, Israel or the UK, in order of likelihood. Neither possibility is pleasant to contemplate but we need to know the truth.
All three governments are confirmed liars and although the UK has a new administration, our new prime minister voted for the Iraq war, currently sends our soldiers to continue the destruction of Afghanistan with assassination of Afghan freedom fighters and colludes with America and Israel in their aggression against Iran. The UK voted for this government and will suffer for it as it has under the ruinous Blair and Brown administrations.
At the same time as new calls in the UK media for a new inquest on Dr David Kelly's death, Anthony Blair
announced
that he will donate the proceeds from his memoirs, estimated at GBP 5 million, to the Royal British Legion for the benefit of injured armed services personnel. They have evidently accepted this gift from the now-rich Mr Blair who is being paid generously by the Americans for his betrayal of both international law and his own country. Perhaps the soldiers who have survived the Bush/Blair war with disabilities will be delighted at Mr Blair's generosity but it will do little for the 179 British men who died in the cause of enriching him, to say nothing of Iraqi deaths and refugees.