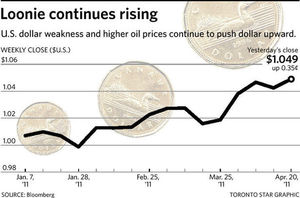 Gold prices reached new highs Wednesday, as investors fretted over stern warnings on U.S. debt and growing inflation risks in China and India.
The same forces pushed up prices for silver, oil, and other commodities, as well as the Canadian dollar, as the U.S. greenback fell sharply.
Spot gold rose to an all-time high of $1,505.70 (U.S.) an ounce.
The precious metal has hit new records for four straight days, aided in large part by Monday's threat of a downgrade to the United States' triple-A credit rating and lingering euro zone debt worries that have depressed the dollar.
Investors typically flock to gold as a hedge against inflation and uncertainty. Both China and India reported higher than expected inflation last week.
Silver also surged above $45 (U.S.) for the first time since 1980 Wednesday.