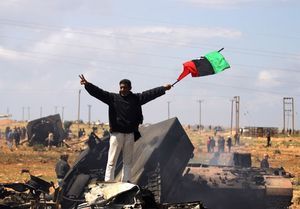 Serious fractures emerged in the international community yesterday over the military intervention in Libya, with some nations asking such basic questions as what the end-game is and how long it will take.
Just days after forsaking its chance to veto the United Nations resolution that authorised the air strikes, Russia offered the most jarring commentary, with Prime Minister Vladimir Putin saying: "The resolution is flawed. It allows everything and is reminiscent of a medieval call for a crusade. In fact, it allows intervention in a sovereign state."
Germany, which like Russia abstained at last week's UN Security Council meeting, also repeated its misgivings about the operation. And via a state newspaper, the Chinese government condemned what it called "armed action against a sovereign country" and expressed its regret that "the West will not give up their jurisdiction over justice and injustice".
Even Britain, France and the US, which together have conducted the raids aimed at destroying much of Libya's air-defence capability and neutralising Colonel Muammar Gaddafi's military advantages, manoeuvred to manage diplomatic and domestic political fall-out from the still nascent operation.
Rising quickly to the top of a long list of concerns was the chance that, with most of the heavy bombardment over, the coalition may find itself drifting into a prolonged stalemate in Libya with no real change in the balance between the rebels and pro-Gaddafi forces. Asked when operations would be over, a senior French military adviser replied that it might be "a while".