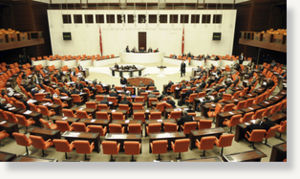 NATO appeared on Thursday to move closer to assuming command of the military operation in Libya when Turkey's foreign minister was quoted as saying an agreement has been reached.
The alliance needs the approval of all 28 of its members in order to co-ordinate the operation, and Turkey had set conditions on that role for NATO.
"The coalition that was formed following the Paris meeting will abandon the mission and hand it over entirely to a single command system under NATO," Turkey's Foreign Minister Ahmet Davutoglu was quoted as saying by Turkey's state-run Anatolia news agency.
"All of Turkey's concerns, demands on the issue have been met," he said, and NATO has promised to complete the work needed to take over the Libya mission "within one or two days."