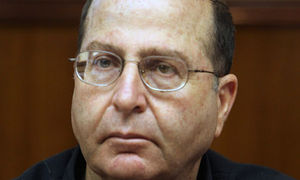 Moshe Ya'alon says Israel is 'fed up of giving and giving' while Palestinians refuse to recognise Jewish nation state
An agreement to end the Israeli-Palestinian conflict will not happen in the next "one or two years", Israel's deputy prime minister said today, blaming the Palestinians for the lack of progress.
"We're fed up with giving and giving and giving, and not getting any real substance [in return]," said Moshe Ya'alon, the minister of strategic affairs, after this week's leak of secret documents on the peace talks. He dismissed the extensive concessions offered by Palestinian negotiators, revealed in the documents, saying they were insignificant compared to the "core of the conflict - our right to exist".