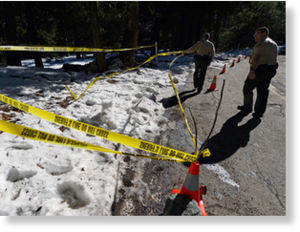 Fugitive ex-cop Christopher Dorner was killed by a single gunshot wound in his head, the San Bernardino County Sherriff's office reports, adding that it appears to have been self-inflicted.
­As the cabin where Dorner was hiding was going up in flames, deputies heard one final gunshot inside, San Bernardino County sheriff's Capt. Sheriff John McMahon told reporters on Friday.
There is evidence that Dorner took his own life, McMahon said.
"The information that we have right now seems to indicate that the wound that took Christopher Dorner's life was self-inflicted," he said.
Earlier, authorities had confirmed that the human remains discovered in the burnt-out cabin belonged to Dorner, but were unsure whether he had burned to death, was killed by the police or committed suicide.
The manhunt for Dorner began last week after authorities claimed he had launched a deadly revenge rampage against the LAPD over his allegedly illegal firing. Police have accused him of killing three, and had formally charged him with one murder.
During the last days of the hunt, Dorner was hiding across the street from the search operation's command post. When discovered, he engaged in a deadly shootout with police, killing one deputy and injuring another.
Dorner spent his final moments inside the cabin, engulfed in flames. By some reports, police prevented any escape attempt, shelling the house with heavy gunfire and stopping firefighters from putting the blaze out. Although police have claimed they did not "deliberately" burn the cabin to ashes, they admit that the projectiles used to force Dorner out could have caused the flames.