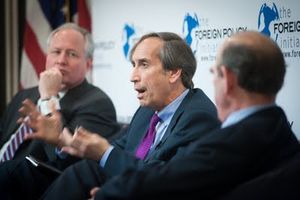 War criminals from the Foreign Policy Initiative implore House Republicans to ignore the people & the Constitution for continued war with Libya.
For those that want a list of who is responsible for what ails America and the world, one could get a good start by examining the signatories of the Foreign Policy Initiative's latest signed confession.
Titled,
"An Open Letter to the House Republicans"
they implore House Republicans to not only support the un-Constitutional war being waged in America's name
on the Fortune 500′s behalf
, but to "achieve the goal of removing Qaddafi from power."
Apparently we were all lied to when we were told the goal of our intervention in Libya was to "protect civilians." As reported in May,
Libya will be won at any cost
, and the initial lies used to tip-toe us into the conflict were but a temporary pretense for a war of total domination.