Don't Panic! Lighten Up!
Officials were perplexed after metal object crashed through roof in N.J.
---
Zach Howard
Reuters
Thu, 19 Jul 2007 08:39 UTC
A Vermont town that is gaining national attention for brash displays of nudity -- from teens in the buff to naked elderly people -- awoke on Wednesday to an emergency ban on nakedness in most public places.

Officials in Brattleboro voted 3 to 2 on Tuesday night for a temporary 30-day ordinance prohibiting people from going about in the nude.

Public nudity made headlines last summer when the weather grew hot and a couple of dozen teens took to holding hula hoop contests, riding bikes and parading past stores wearing only their birthday suits. The disrobing has resumed this summer.
---
HEMLOCK, Mich. - A woman who hates spiders is crediting them with helping save her from a house fire. Danielle Vigue, 18, says she awoke early Tuesday to find spiders in her room, and started killing them. When more showed up, she says she went across the hall and got into bed with her 15-year-old sister, Lauren.
---
---
AP
Wed, 18 Jul 2007 12:32 UTC
Matthew Danchanko has squatters in his new home. And they won't leave without a fight. They're honeybees - tens of thousands of of them. They buzz through the four-bedroom house, creating a low hum and an estimated 100 pounds of honey.
---
Pagans have pledged to perform "rain magic" to wash away cartoon character Homer Simpson after he was painted next to their famous fertility symbol - the Cerne Abbas giant.

The 17th century chalk outline of the naked, sexually aroused, club-wielding giant is believed by many to be a symbol of ancient spirituality.

Many couples also believe the 180ft giant, which is carved in the hillside above Cerne Abbas, Dorset, is an aid to fertility.

A giant 180ft Homer Simpson brandishing a doughnut was painted next to the well-endowed figure in a publicity stunt to promote The Simpsons Movie released later this month.
---
BRITAIN and America have announced a trial separation during which they will be free to see other countries.

Tensions have been building between the two since the ill-fated decision to buy and refurbish a run-down Middle Eastern state together.
---
GLASGOW, Ky. - A volunteer firefighter in south-central Kentucky was arrested after allegedly making false 911 calls because he was bored, police said.
---
AP
Mon, 16 Jul 2007 17:29 UTC
Hundreds of people who were treated at a southern Arizona hospital received exorbitant medical bills as high as $49 million because of a computer error.

A malfunction in new computer software occurred July 2 and affected statements for 587 patients who were treated at Northern Cochise Community Hospital in Willcox, said Kim Aguirre, director of patient financial service for the hospital.
---
You can't think about rock without thinking of Elvis. Not this rock, anyway.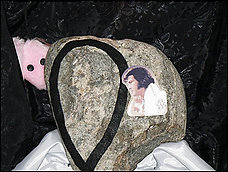 ©AP Photo/ The Coloradoan
LaDell Alexander displays a rock with an image resembling Elvis Presley, circled, July 12, 2007, in Estes Park, Colo. Placed next to the rock is a photo of Elvis Presley. Alexander, 60, plans to sell it on eBay on the 30th anniversary of Presley's death.

Comment: You have to admit. It does look a lot like Elvis. But, who is that peaking out from behind the rock? Jimmy Hoffa?


---