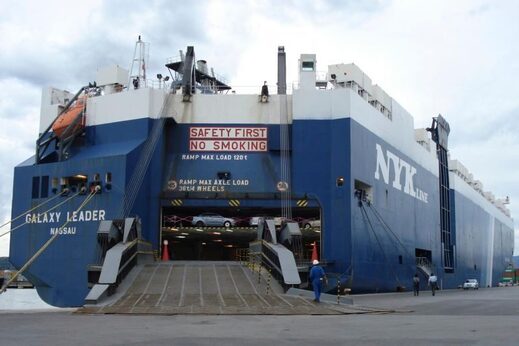 Yemen's Houthis say they have taken control of a cargo ship in the southern Red Sea as the
war in Gaza
sends tensions soaring in the region.
The Houthis, who control northern Yemen and its Red Sea coast, said the ship was Israeli
, but Israel described it as a British-owned and Japanese-operated cargo vessel with no Israeli nationals on board.
Some 25 people are believed to have been on board the
Galaxy Leader
- reported to be
partly owned by an Israeli businessman
and sailing under the flag of Bahamas - when it was seized en route from Turkey to India.

Comment:




Ownership details in public shipping databases associated the ship's owners with Ray Car Carriers, founded by Abraham "Rami" Ungar, who is known as
one of the richest men in Israel
.
Ungar told The Associated Press news agency he was aware of the incident but could not comment as he awaited details.
A ship linked to him
experienced an explosion
in 2021 in the Gulf of Oman.
Israeli media blamed it on Iran at the time.
International shipping often involves a series of management companies, flags and owners stretching across the globe in a single vessel.
Houthis wade into Israel-Gaza war
Houthi military spokesperson Yahya Saree said the seizure of the ship
was in response to the "heinous acts against our Palestinian brothers in Gaza and the West Bank".
"If the international community is concerned about regional security and stability, rather than expanding the conflict, it should put an end to Israel's aggression against Gaza," he wrote on X.
The Houthis have launched several missile and drone
attacks against Israel
since October 7
, when an attack by Hamas inside Israel prompted an Israeli ground and air offensive on Gaza.

Comment: The evidence is showing that, not only had some factions within Israel been provoking Hamas in the months prior, but that they also intended to use the predictable retaliation by Hamas as their pretext for the escalation of their genocide in Gaza.

Furthermore, in just the last day or so, Israel officially admitted that it killed some of the attendees at the festival, not Hamas as they'd previously claimed, and there's evidence showing that they were also responsible for murdering some of the hostages.


Last week, the Iran-aligned Houthis said they could target Israeli ships in the Red Sea and the Bab al-Mandeb Strait. Saree renewed the warning that any ship belonging to Israel or those who support it will be a legitimate target for Houthi forces.
"We confirm our continuation of military operations against [Israel] until the aggression and ugly crimes against our Palestinian brothers in Gaza and the West Bank stop," said Saree.
In a statement, Prime Minister Benjamin Netanyahu's office said Israel was not involved in the ship's ownership, operation or the makeup of its international crew.
It alleged the attack was an "Iranian act of terrorism" with consequences for international maritime security.
"This ... represents an escalation in Iran's belligerence against the citizens of the free world,
with concomitant international ramifications vis-a-vis the security of global shipping routes,"
said the statement released by the prime minister's office, without providing any evidence about Iran's involvement.

Comment: Well, it seems that it's only Israeli ships that will suffer from Houthi attacks. But, it's also likely that nefarious factions supporting Israel would create a scenario whereby, if their ships can't transit, no ships will.


"There were no Israelis on the ship," it continued, adding the 25 crew members are from Ukraine, Mexico, the Philippines and Bulgaria, among other countries.
On Monday, Iran denied the Israeli claims.
Foreign Ministry spokesman Nasser Kanaani told reporters in Tehran that regional resistance groups make decisions and take actions based on their own interests.