A team of space scientists, astronomers and astrophysicists affiliated with multiple institutions across the U.S., working with a colleague from Italy, has determined that a celestial object
spotted by citizen scientists back in 2016 is neither a comet nor an asteroid, but an object that lies on the boundary between both
. In
their paper
published in the journal The Astrophysical Journal Letters, the group describes the multiple tests they did to determine the nature of the object and what they learned about it as a result.
While much space science is conducted by professionals in the field, much is also done by so-called
citizen scientists
— people with an interest in space who participate by using amateur telescopes to peer at the night sky.
In this new effort, a group of such citizen scientists discovered an object in the night sky that had not been identified by the
scientific community
. They continued their work by searching through publicly available archival data and found images of the object, but no instances where it had been singled out. In so doing, they found what they described as
clear signs of comet behavior
. The group registered the object with the Active Asteroid project, where it came to the attention of the research team.
The research team promptly named the object quasi-Hilda 2009 DQ
118
.
The Hildas are a band of comets and asteroids that exist between the Trojans and the
main asteroid belt
.
The object found by the citizen scientists was not a true Hilda asteroid, however, hence its quasi title.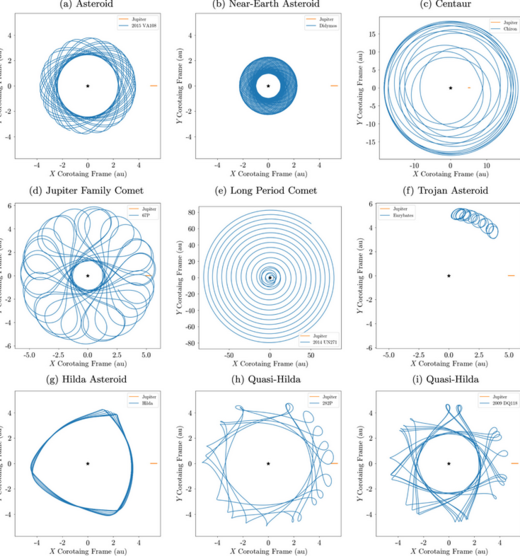 After studying 20 images of the object found in the archives, the researchers gave it a look using both the Astrophysical Research Consortium Telescope and the Magellan Baade Telescope. In doing so, they
found what they describe as a second epoch of activity
associated with the object. They then carried out a photometric analysis of the tail and found that it was approximately the same length and brightness in all the images that had been taken. They also tracked its orbital history using dynamical simulations.
The work by the team showed that the object was indeed a quasi-Hilda and that it frequently came close to Jupiter as it orbited around the sun. The researchers
found no evidence to suggest the object is a
comet
or an asteroid. It was neither mostly ice nor mostly rock, which puts it on the boundary between both.
More information: William J. Oldroyd et al, Recurring Activity Discovered on Quasi-Hilda 2009 DQ118, The Astrophysical Journal Letters (2023). DOI: 10.3847/2041-8213/acfcbc

Journal information: Astrophysical Journal Letters