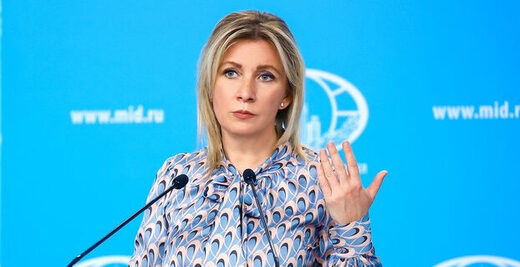 Moscow has "no doubt" about Western complicity in the attack on Sevastopol last Friday, the Foreign Ministry has said...
Maria Zakharova, the spokeswoman for the Russian Foreign Ministry, has asserted that
US and British intelligence agencies supported Kiev during an attack on Sevastopol last Friday. The Ukrainian assault targeted the headquarters of the Russian Black Sea Fleet.
Speaking at a weekly briefing on Wednesday, she said:
"There was no doubt that this attack was planned with the use of Western surveillance assets, NATO satellite equipment, and spy planes and conducted at the direction of and in close coordination with American and British special services."
The Defense Ministry has reported that the missile strike on the fleet headquarters involved several Ukrainian missiles, with Russian air defenses successfully intercepting some of them. British media outlets have also disclosed that
Kiev employed Storm Shadow missiles supplied by the UK in the attack,
resulting in significant damage to the building.
Zakharova described the incident as one of many in which Kiev "targets Russian regions, using missiles and shells supplied by NATO states," citing several other recent examples.
The goals of the Ukrainian government, she said, are "to draw attention away from the Ukrainian military's failed attempts at conducting a counteroffensive" and to destabilize Russian society.
The US and its allies have supplied tens of billions of dollars worth of military hardware to Ukraine to boost its summer charge against Russian defensive lines. The operation, however, has so far produced insignificant territorial gains at the cost of heavy losses in manpower and equipment.
Russian Defense Minister Sergey Shoigu estimated on Tuesday that over 17,000 Ukrainian troops were killed in September alone.
Western officials and media have acknowledged that the counteroffensive has not turned out as Kiev and its sponsors had hoped.
The administration of US President Joe Biden, however, has
urged Congress to keep financing Ukraine for the foreseeable future.
An appropriation request for over $24 billion in aid
is currently floating in the legislature
but is opposed
by some Republican lawmakers.
Senators have proposed a compromise stopgap spending bill to avoid a possible government shutdown next month.
The plan involves reducing spending on Ukraine to $6.2 billion.
The GOP-controlled House of Representatives would need to approve the draft before it could be voted on and sent to Biden's desk to be signed into law.
Moscow has called the Ukraine conflict part of a broader US proxy war against it, allegedly being waged "to the last Ukrainian." The Biden administration has pledged to support Kiev "for as long as it takes" to inflict a "strategic defeat" on Russia.