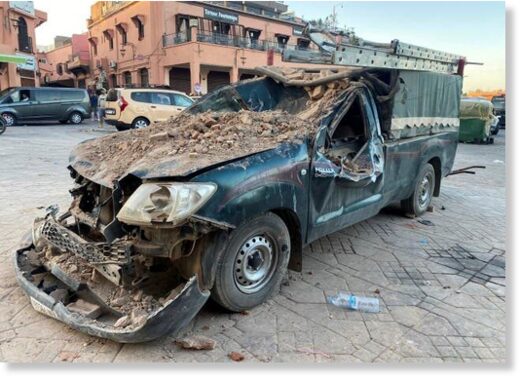 At least 632 people were killed in Morocco after a powerful earthquake struck late Friday night near Marrakech, according to state-run television.
The death toll has surged from the earlier 296 dead and 153 injured figures that were given by the country's interior ministry. Most deaths were reported from Morocco's hard-to-reach mountainous areas, according to Reuters.
The epicentre of the quake was reported to be at the High Atlas mountains in the Ighil area, about 70km south of Marrakech.
It was said to be about 18km below the Earth's surface by the US Geological Survey (USGS), while Morocco's own National Seismic Monitoring and Alert Network, estimated it to be 11km below.
Shallow quakes such as this are said to be more dangerous.
The tremors, measured at a 7.2 magnitude by Morocco's own seismic agency, toppled several buildings across cities and sent people running from their homes late at night.
The quake had initially registered a magnitude of 6.8 when it hit at 11.11 pm local time on Friday, with an aftershock that measured 4.9 on the Ritcher scale about 20 minutes later, according to the USGS.
Local news reports suggest Marrakech and the surrounding areas were the worst affected areas, with some buildings completely turned to rubble and dust. Morocco's interior ministry said the tremors hit the provinces of Al Haouz, Ouarzazate, Marrakech, Azilal, Chichaoua, and Taroudant. Officials urged residents to remain calm.
Locals shared videos on social media platforms showing the collapsed buildings, including the famous red walls surrounding the old city and Unesco World Heritage site Marrakech.
Videos showed people running out of restaurants and apartment buildings and congregating outside.
Some buildings collapsed completely with hospitals also being evacuated.
One of Marrakech's most famous landmarks suffered damage as well, according to reports. The 12th century Koutoubia mosque, the 226ft-long minaret of which is known as the "roof of Marrakech", suffered damage, but the extent of the destruction has not been ascertained yet.
Several homes of Talat N'Yaaqoub town, near the epicentre, have been partially or completely demolished, said Abderrahim Ait Daoud, the town's head.
"Our neighbours are under the rubble and people are working hard to rescue them using available means in the village," a resident of the village Asni near the epicentre, told Reuters.
The USGS estimates that about 20 million people likely felt shaking from the earthquake with over 2 million people experiencing strong to very strong shaking.
The tremors were felt as far away as Portugal and Algeria, Portuguese Institute for Sea and Atmosphere and Algeria's Civil Defense agency said.
Moroccan officials and Morocco's official news agency MAP have not published information about casualties or damage.
The tremors are the strongest in years affecting Morocco.
Messages of support from across the globe have poured in.
The UN said it "is ready to assist the government of Morocco in its efforts to assist the impacted population".
The European Union's Commissioner for Crisis Management Janez Lenarčič said the EU is "ready to provide any assistance necessary". "Central Morocco has been hit by a devastating earthquake taking a heavy toll on human life," Mr Lenarčič said.
The G20 summit, that kicked off early morning Saturday in India, began with a condolence message from prime minister Narendra Modi. "Before starting the official proceedings, I would like to express my condolences to the people impacted by the earthquake in Morocco," Mr Modi said.
"The world is with Morocco and we are really to provide them with all the possible help."
Countries have, meanwhile, called for caution for those travelling to Morocco.
The US embassy in Morocco has advised American citizens to "exercise caution" for the next 24 hours in case of additional earthquakes or aftershocks.
"A tsunami warning will also be in effect for coastal areas," the embassy said. "Adhere to police instructions regarding road closures or traffic disruptions," it added.
The UK has also urged travellers to follow local media and safety instructions from local authorities.
In 1960, a magnitude 5.8 quake that struck near Morocco's Agadir caused thousands of deaths.