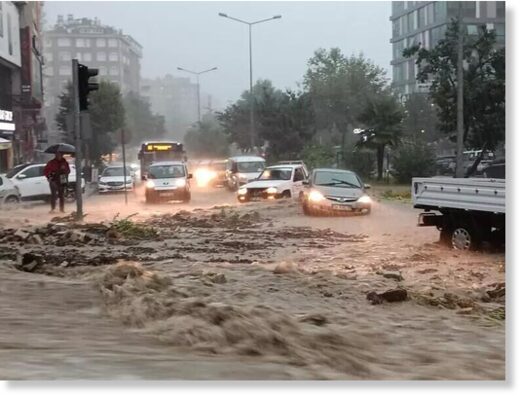 The Turkish State Meteorological Service and the Disaster and Emergency Management Presidency (AFAD) issued a stern warning for the region, which proved prescient as heavy precipitation led to widespread floods and destruction in Samsun and Giresun on Sept. 3.
In Samsun, the deluge caused extensive flooding, inundating homes and businesses. Atatürk Boulevard, a major thoroughfare, transformed into a lake, necessitating the closure of the road to all transportation. Stranded vehicles and distressed citizens added to the chaos.
Local officials emphasized that the current disaster surpasses the floods experienced in June, with some residents trapped, public transportation services halted and municipal teams implementing various emergency measures.
Samsun's city square and several critical streets and neighborhoods also witnessed substantial flooding, with the İlkadım and Atakum districts particularly hard hit. Meteorologists and AFAD issued information messages, as the incessant rain intensified throughout the morning, exacerbating the flooding situation.
Approximately 147 kilograms of precipitation per square meter fell in just six hours,
causing significant damage, road closures and vehicle overturns, reports indicate, while individuals are stranded in various areas of the city.
The municipality immediately initiated flood response efforts, dispatching teams to evacuate water from streets and unclog blocked channels and drains caused by debris and soil runoff from hillsides.
"We have been actively responding to this major disaster from the outset. Our teams are on the ground, and we have thankfully avoided casualties. We are working tirelessly to restore normalcy as quickly as possible," Samsun Mayor Mustafa Demir stated.
Meanwhile, Giresun also grappled with the consequences of torrential rains. The city center's streets were submerged, posing challenges for drivers attempting to navigate through the floodwaters.
Puddles formed in various parts of the city, causing damage to ground-floor businesses and residences. The road initially closed to Ordu and Trabzon directions reopened eventually with controlled traffic flow following extensive cleanup operations by municipal crews.