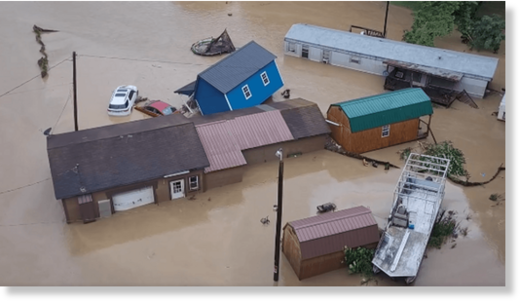 Governor Jim Justice declared a State of Emergency for several counties in West Virginia, USA, following heavy rainfall and flash flooding.
In a statement of 28 August 2023, the governor said, due to excessive rainfall he had declared a State of Emergency for Kanawha, Braxton, Calhoun, Clay and Roane counties. "The rain is causing significant flooding, damaging homes, bridges, and roads throughout the counties," the governor said.
According to figures from the National Weather Service office in Charleston, 4.17 inches/ 105.92 mm of rain fell in Kanawha in 6 hours on 28 August. In Boone, 3.7 inches / 93.98 mm fell during the same period. Slaughters Creek in Kanawha County has seen 6.25 inches / 158.75 mm of rain in 72 hours to early 29 August.
The West Virginia Division of Highways (WVDOH) deployed teams to clearing culverts, clean up mudslides, and assess damage. Mudslides closed both lanes of US 60 in Belle and on the West Virginia Turnpike near Chelyan at Mile Marker 85.5 where the southbound right lane was closed, the governor said.
Communities in in Kanawha county have been particularly badly affected. County officials said Metro 911 of Kanawha County took over 700 calls for assistance during the morning of 28 August. First responders executed 22 water rescues.
Kanawha County officials said several creeks were reported out of their banks including Slaughters Creek, Kelly's Creek, and Witcher Creek. Emergency management officials reported flooding in the Cabin Creek along with a mudslide which closed both lanes of U.S. Route 60 in Cedar Grove.
Kanawha County Sheriff's Office urged residents in low-lying areas near Cabin Creek to immediately seek higher ground or evacuate if safe to do so due to flooding in the area.
More rain was expected overnight in the area. Kanawha County Officials said, "with the ground already saturated there is a potential for further issues. No watches or warnings have been issued at this time by the National Weather Service. However, local officials who are on the scene are asking the public to use caution and watch for additional issues in areas where creeks and streams have already come out of their banks. Do not drive through high water. Local officials cannot stress enough to be aware of their surroundings. Continue to follow social media, listen to the news and radio for further updates."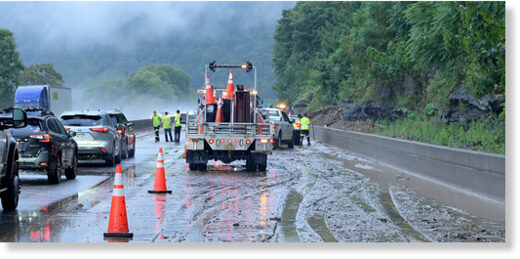 As part of the State of Emergency declaration, the Governor has directed the West Virginia Emergency Management Division to implement the West Virginia Emergency Operations Plan as necessary, mobilize appropriate personnel and resources to respond to the emergency, and facilitate the provision of essential emergency services.
Assets from the West Virginia National Guard including the All-Hazards swift water rescue team, and aerial assets including UH-72 Lakota and UH-60M Blackhawk helicopters, were activated for deployment.