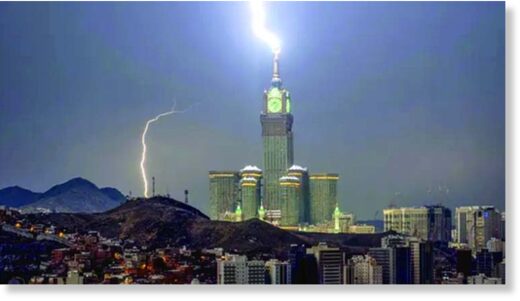 Saudi Arabia's Mecca, home to Islam's holiest sites, has seen extreme storms and rain that affected pilgrims, shuttered schools and caused chaotic scenes.
Videos online on Tuesday showed pilgrims who were doing the tawaf - circling the Kaaba - getting soaked and slipping on the floor as heavy rains thrashed and carried objects around.
As the rare scenes were unfolding at the giant black cube towards which all Muslims pray, another video showed a bolt of lightning striking the iconic Fairmont Makkah Clock Royal Tower hotel, illuminating the night sky on Tuesday.
Hussain al-Qahtani, spokesman for the National Center for Meteorology, posted on X, the social media platform formerly known as Twitter that the storm brought gale-force winds exceeding 80 kilometres (50 miles) per hour.
Al-Qahtani said the Mecca neighbourhood of al-Kakiyyah recorded 45 millimetres (1.8 inches) of rain within 24 hours.
Videos online also showed mild flooding in some neighbourhoods of Mecca, forcing citizens to take shelter and stop cars.
Conditions appeared similar to a 2015 storm that felled a crane at the Grand Mosque, or the Masjid al-Haram, the mosque enclosing the vicinity of the Kaaba, killing more than 100 people and injuring hundreds more.
Saudi authorities reported no casualties or significant incidents as a result of Tuesday's storms.
Flash flooding had mostly dissipated by Wednesday morning, according to residents, but the situation could still prove risky.
The meteorology centre warned of further storms on Wednesday bringing rain, wind and thunder to the Mecca region and elsewhere in western Saudi Arabia.
Moreover, the Mecca regional government said on the X platform that schools would be closed in parts of Mecca on Wednesday, with classes to be held on an e-learning platform "in the interest of everyone's safety".
Mecca resident Abu Mayyada told the AFP news agency he was out buying cigarettes and petrol when "everything went black in front of me" as the worst of the storm hit.
"Suddenly I lost control of the vehicle. I couldn't see anything so I started listening to the Quran on the radio. I didn't understand what was happening," he said.
Mecca resident Mohammed, who like other residents asked to remain anonymous, told AFP that scenes around the Grand Mosque were very scary.
"Everything happened within a few minutes when it started raining in a crazy way," he said.
Another resident, Yusuf, said August usually brought strong winds to Mecca but that Tuesday's storm was "the worst" he could remember.