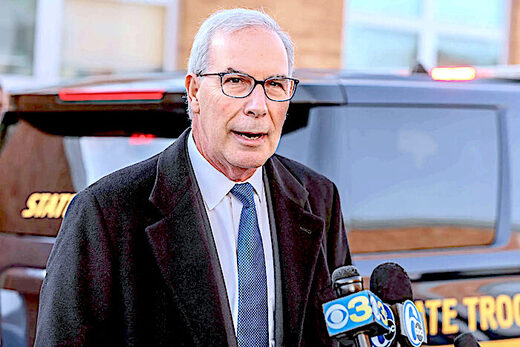 In a shocking display of transparency for the nation's premier mainstream media outlet, the
New York Times
has independently fact-checked claims by a whistleblower with the Internal Revenue Service alleging that Justice Department officials worked to steer his agency's investigation into tax fraud by Hunter Biden.
The
NYT
concluded that the whistleblower was indeed telling the truth.
On Tuesday Gary Shapley, a seasoned veteran with the IRS, spoke out once again on interference he experienced while working to determine whether the son of President Joe Biden violated tax laws by underreporting income made since 2018. During his team's interaction with
Delaware U.S. Attorney David Weiss,
Mr. Shapley said he saw the Justice Department official rebuffed multiple times by senior law enforcement while pursuing criminal charges against Hunter Biden.
The New York Times
buried its confirmation of the claim near the end of its story.
Mr. Shapley also added during his interview that he was ordered to "
stand down
" on pursuing leads that could have implicated President Biden in any illegal activities by his embattled son.
The account by Mr. Shapley was released by House Republicans last week in response to claims by U.S. Attorney General Merrick Garland that neither he nor the White House sought to pressure Weiss to give
special treatment
to Hunter Biden, who recently
reached a deal
with prosecutors that will spare him prison time in exchange for entering guilty pleas to two misdemeanor tax violations and a firearms charge. Critics of the deal
point out
that
Hunter Biden is the only person in the district of Delaware to see similar tax violations settled at such a low level.
As the agent in charge of the investigation into Hunter Biden, Mr. Shapley told the House Ways and Means Committee that he was denied a promotion over his dogged attempts to treat Hunter Biden no differently than any other tax scofflaw. He also told House Republicans that he personally heard Attorney Weiss say that he would not be the "deciding official" on whether to bring charges against the president's son.
Despite his guilty plea, Hunter Biden continues to stand at his father's side, most recently during a
state dinner
where AG Garland awkwardly attempted to avoid any interaction with him. President Biden has had several testy encounters with reporters who have asked basic questions about his involvement with Hunter Biden's business activities that led to the tax violations,
yelling
retorts and calling inquiries about his involvement "dumb questions."